What is CTiTraffic?
CTiTraffic is a multi-junction A.I solution for the management, automation, and enhancement of traffic junction for your city. CTi Traffic solve traffic problems by enabling the traffic junctions to see, visualize, analyze, decide, and work with one another. This is made possible by breakthroughs in artificial intelligence, cloud technology and machine learning.
Introducing CTiTraffic
Reclaim your time lost due to traffic congestion.
Phase 1
Data Collecting & Modelling
A compact and powerful Integrated Environmental sensor.
Phase 2
Optimizing Traffic Junction
A traffic video analytics on demand CCTV.
Phase 3
Traffic Controller Integration
A.I Integration box as traffic controller vendor neutral.
Did you know?
Every day, average citizens waste up to 72 minutes stuck in traffic.
CTi Traffic gives your time back!
How does CTi Traffic work?
With the possibilities of a breakthrough in artificial intelligence, cloud technology, and machine learning, CTi Traffic enhances the automation of traffic junction to visualize and analyze the collected data. Allowing the traffic junction to improve best according to the digital data-driven city.
CTi Traffic – Phase 1
Data Collection and Modelling
Phase 1 : Data Collecting & Modelling
Collecting Traffic Data through real-time observation reduces the amount of error and increases the reliability of data collection. Our plug and play Clear Sight A.I. CCTV gives you accurate traffic data & real-time tracking, generating your city's own hyper-local traffic data models.
KPI Measurement Automation
Automate traffic junction KPI measurements such as journey time, vehicle waiting time, and queue length with camera analytics for continuous service quality improvement.
Why collecting these data?
With the generated hyperlocal data models, it can be used to generate actionable insights to improve the city's traffic performance, as well as enabling the use of Artificial Intelligence Machine Learning Technology for the optimization of the city's traffic junctions.
CTi Traffic – Phase 2
Using Data Models to Optimize Traffic Junction
Phase 2 : Optimizing Traffic Junction
CTi Traffic's Phase 2 involves using the data models to greatly optimize traffic junctions by using A.I (Artificial Intelligence) Optimization.
How does it work?
A. I optimization could reduce traffic journeys by up to 33.5 percent when compared to the traditional Scats Method in Manual Optimization.
Deep Reinforcement Learning (DRL) or other machine learning techniques can be used to train A. I agents in a micro parameter traffic simulator such as Simulation of Urban Mobility using the data models generated (SUMO).
These trained A. I agents will learn how to optimise a traffic junction and how to collaborate with other A. I agents to optimise the citywide traffic system.
Endless Possibilities.
Through the data collected, our AdvanCTi A. I. brain can simulate and visualize your city's traffic junction, creating a virtual training ground for it to learn and model your city's traffic. It's a plan that adapts to different traffic changes and conditions.
Generating a better traffic plan
The calculation of the suggested plan is to generate and adapt the cycle length for multi-junction and green time. AdvanCTi A. I. brain will generate the best traffic plan across all your traffic junctions that evolves and adapts to different weather conditions, peak hours, traffic conditions, and even festive seasons.
CTi Traffic – Phase 3
Traffic Controller Integration
Phase 3 : Integrating the with traffic controller
Clear Sight is a traffic video analytics on demand CCTV, made possible by breakthroughs in machine learning and A.I. at-the-edge technology. This enables our city to generate and validate real-time details and insights on our city's traffic.
How it works?
Using our AdvanCTi Traffic Box, it can integrate or upgrade
existing traffic controllers by connecting them through
AdvanCTi Traffic Brain and AdvanCTi Platform. Providing
the controllers with much accurate traffic data, and
optimizing the traffic junctions with artificial intelligence traffic plan.
Endless Possibilities.
With Clear Sight we can achieve centralized traffic engineering storage and UI through Local Server and/or Cloud based.
Conveniently share traffic improvement results with the public, integrate with other smart city systems, etc.
CTiTraffic A.I INTEGRATION BOX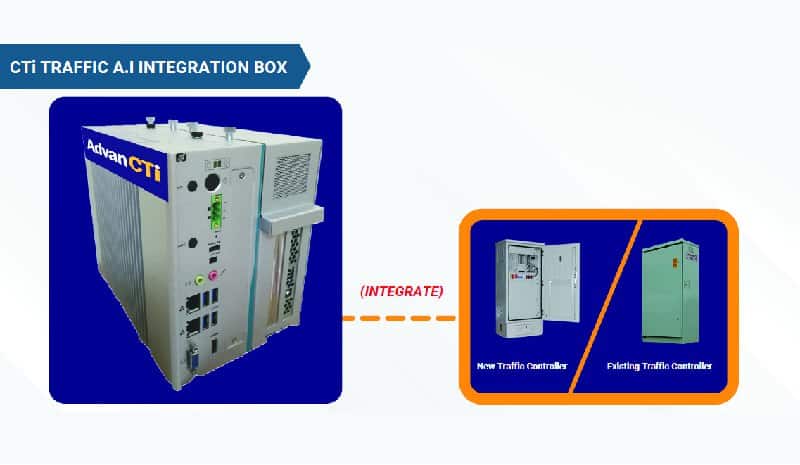 CTi Traffic A.I Integration Box
Features:
Fanless Intel i7 processor with Movidius A.I. accelerator.
-10oC to +60oC operating temperature range.
Power input: 24VDC (uMin=19V/uMax=30V).
Support 2 swappable 2.5" HDD for surveillance recording
On-demand live video streaming directly to your smart city
dashboard browser (delay less than 1 second with webrtc).
API ready for edge traffic video storage retrieval.
Support TPM 2.0.
ANPR (Automatic Number-Plate Recognition) ready Q1 2021.
Discover our smart city solutions
CTiLight, CTiData & CTiTraffic
---
Interested? Contact Us Now!
LED Vision Malaysia always looking for the next great client and project. If you'd like working with us, please get in touch!
LED Vision Sdn. Bhd.
No 109, Jalan PM 1,
Taman Perindustrian Merdeka,
Batu Berendam, 75350
Melaka, Malaysia
Working Hours
Monday-Friday : 9.00 am- 6.00pm
Saturday (alternate) : 9.00 am- 1.00 pm
Sunday and Public Holiday : Closed
Telephone: +606-317 3668
FAX: +606-317 3882
E-mail: sales@ledvision.com.my