What is CTiTraffic?
CTi Traffic is a multi-junction A.I solution for the traffic junction management and automation tailor-made to your city. CTi Traffic solves traffic problems by enabling the traffic junctions to see, visualize, analyze, decide, and work with one another.
This is made possible by breakthroughs in artificial intelligence, cloud technology, and machine learning.
CTiTraffic Product
CTiTraffic LITE – Tier 1
The CTiTraffic Lite – Tier 1 provides user with a cloud system that allow them to view traffic data collected by the AI CCTV camera ClearSight.
Features
On-Demand real time streaming
Monitor Traffic Junction with real time streaming on the CCTV Clearsight Camera.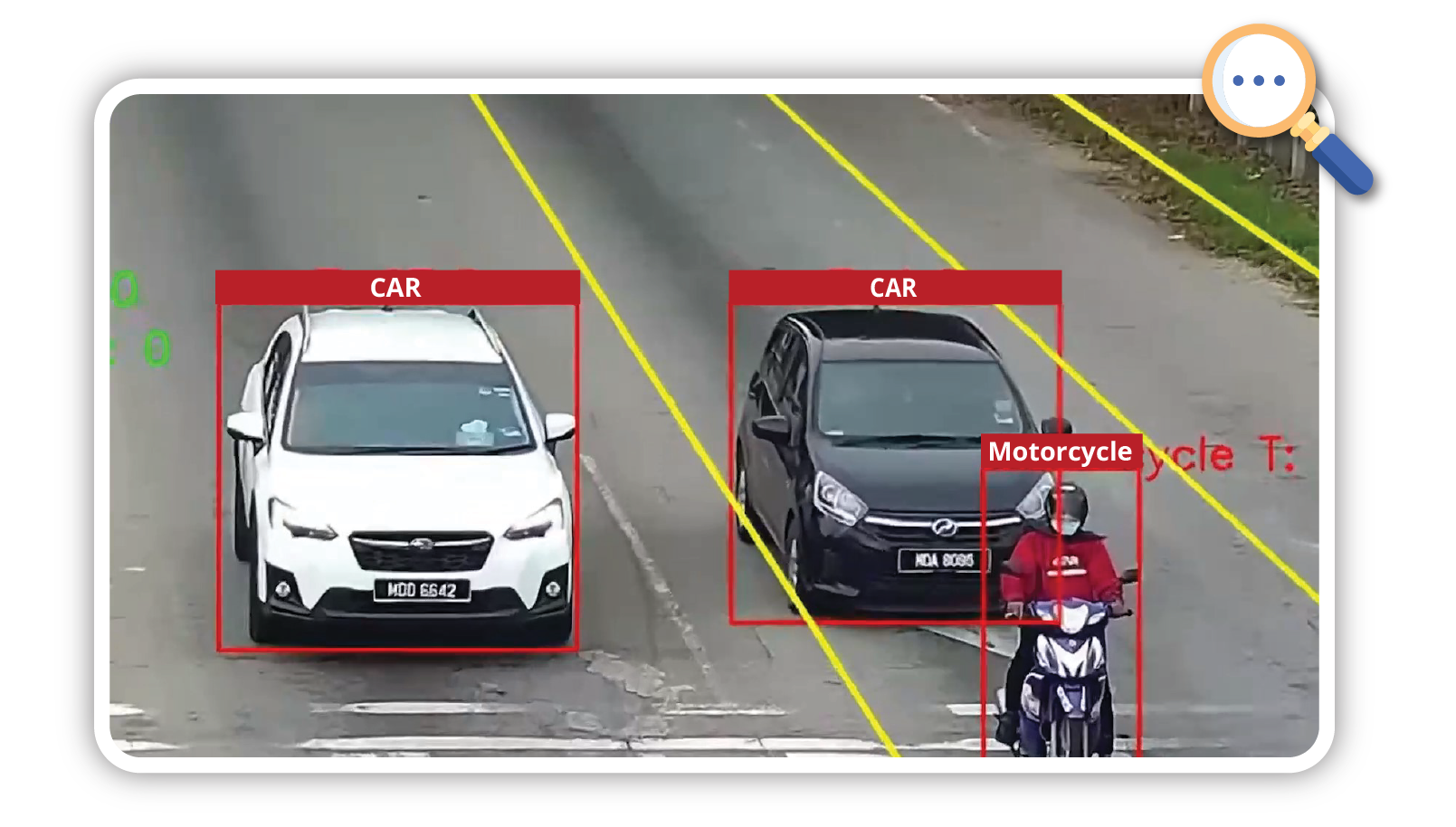 Vehicle Counting & Classification
Our AI Clearsight CCTV camera will scan and count all vehicle that passes through a traffic junction and classify them.
Notification for not enough Green Time
Our system will give out notifications that a congested lane needs more green time based on the "Residuals". Residuals is the leftover vehicles that remain at a junction once the traffic turns red.
CTiTraffic PRIMARY – Tier 2
CTiTraffic Primary uses our AdvanCTi Traffic Box to integrate or upgrade existing traffic controllers by connecting them through AdvanCTi Traffic Brain and AdvanCTi Platform.
Features
On Demand retrieval of recorded Traffic Video
Monitor and retrieve Traffic Junction video according to your prefered date and time.
Automatic Extend Green time to clear the queue
Our AdvanCTi Traffic Brain will automatically extends green light time to clear the queue when it detect a high residual at a congested lane.
Red Light Violation & Incident Detection
Red light violation occurs when a vehicle enters an intersection during the red clearance time. Our clearsight cctv camera is able to detect the red light violation as well as an incident happen on the road.
CTiTraffic DELUXE – Tier 3
CTiTraffic Deluxe links traffic junctions in your city to produce greenwave and adaptively provides the required green time to ease the traffic.
Features
SASCOO adaptive greenwave
SASCOO (Step Adaptive Split Cycle Offset Optimizer) is an AI system that enables the traffic junctions to continuously distribute green light time equitably for all traffic movement.
Origin-Destination Matrix
Origin-Destination Matrix provides the amount of vehicles traveling from specific origin to destination in the traffic network.
Journey time measurement
Journey time measurement provides individual vehicle journey time traveling across the traffic intersection.
CTiTraffic's Project Reference
Majlis Bandaraya Ipoh
The Ipoh City Council (MBI) is making great strides in technology through the Ipoh Smart City Action Plan. One of the things introduced by the council is to introduce traffic lights that use artificial intelligence (AI) to overcome the problem of traffic congestion.
The four locations where our system is installed are the intersection of Jalan Sultan Idris Shah and Jalan Laksamana; the intersection of Jalan Sultan Idris Shah and Jalan Datuk Onn Jaafar; the intersection of Jalan Sultan Idris Shah and Jalan Raja Musa Aziz; and the intersection of Jalan Sultan Idris Shah and Jalan Raja Ekram.
Datuk Bandar Ipoh, Datuk Rumaizi Baharin said, this system will help smooth the flow of traffic by up to 51 percent, especially during peak hours, thus saving time and cost for road users.
---
Interested? Contact Us Now!
LED Vision Malaysia are always looking for the next great client and project. If you'd like to work with us, please get in touch!
LED Vision Sdn. Bhd.
No 109, Jalan PM 1,
Taman Perindustrian Merdeka,
Batu Berendam, 75350
Melaka, Malaysia
Working Hours
Monday-Thursday: 8.30 am - 6.30 pm.
Friday: 8.30 am - 5.30 p.m.
Weekend and Public Holiday: Closed
Telephone: +606-317 3668
FAX: +606-317 3882
E-mail: sales@ledvision.com.my