Introducing CTiData
Generate and Harvest valuable data for your city.
What is CTiData?
CTi Data is a solution that allows you to generate and harvest essential data for the digital transformation of your city. This is made possible by our selection of sensors, cameras, data-harvesting sharing devices, and many more.
Why CTiData?
CTiData has been tested and proven trusted in terms of the reliability of smart city solutions alongside the city's digital transformation for more than 10 years of R&D.
How does CTiData work?
By having digital peripherals such as CTi Data's ClearSense & ClearSight installed on your city's lighting assets, it is possible to collect, analyze, and gain precious data such as the Environmental Data (ClearSense) and Digital Traffic Data (ClearSight). Using the data collected, we are able to apprehend future insights on the digital transformation.
Can CTiData benefits you?
Absolutely! CTi Data not only collects data, but also provide solutions to foreseen weather forecasts, traffic problems, etc.
What is ClearSense?
Clear Sense is a compact and powerful integrated Environmental sensor that can support up to 110 different sensor option. Having the capability to generate hyper-local environmetal data, Clear Sense generates localized and accurate data for weather prediction, natural disasters, weather-related medical data and many more. Plus, all the collected data are accessible through AdvanCTi platform.
Clearsense's type of sensors.
With the astounding range of type of sensors: PM2.5 & PM10, Temperature, Wind Direction, Wind Speed, Air Pressure, Rainfall, Noise, Humidity & Radiation.
Several sensor options to choose from.
With the range of sensors option to choose from, it is possible to customize according to the city's needs. Either having the ClearSense 4 in 1, ClearSense 8 in 1 or ClearSense 10 in 1 sensors, you can choose which sensor options preferred according to your city's need.
ClearSense's Sensor Options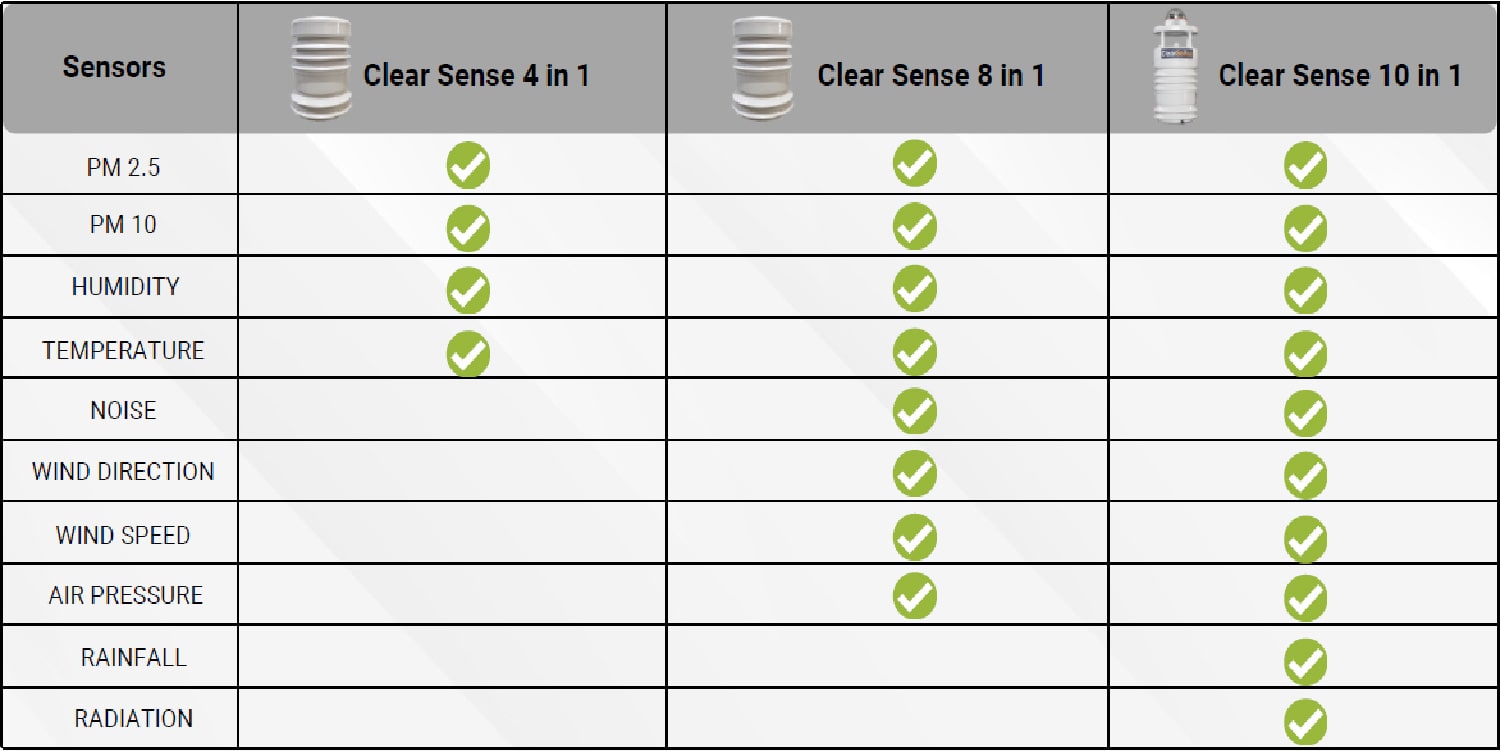 ClearSense Environmental Sensor
Generating and Harvesting Essential Data
ClearSight CCTV in action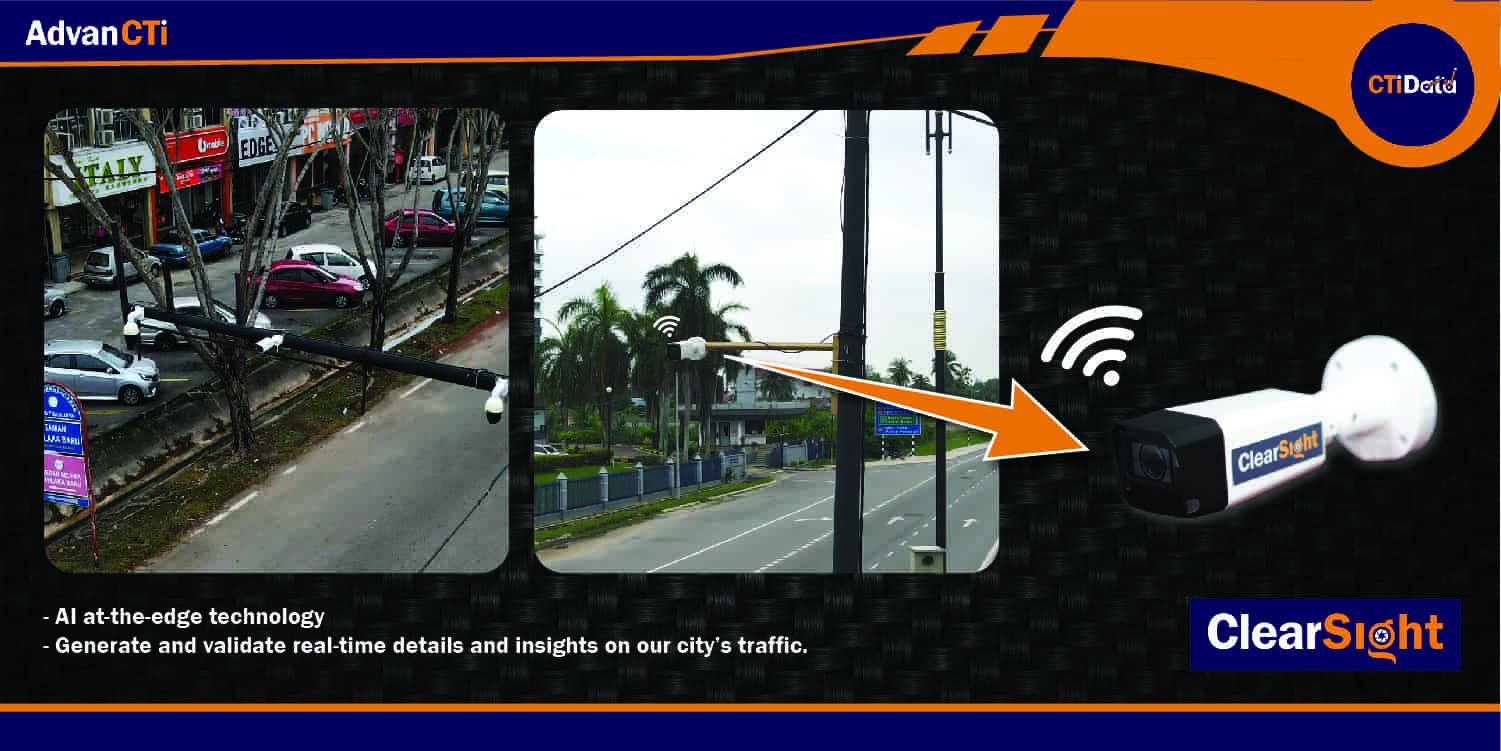 What is ClearSight?
Clear Sight is a traffic video analytics on demand CCTV, made possible by breakthroughs in machine learning and A.I. at-the-edge technology. This enables our city to generate and validate real-time details and insights on our city's traffic.
ClearSight Features
With the ability to obtain vital traffic data such as vehicle classification, vehicle counting, waiting time calculation, journey time calculation, illegal maneuver detection, license plate recognition, incident detection and vehicle tracking.
Endless Possibilities.
Within the technological demands on the city's digital transformation, ClearSight are able to withstand and deliver the validation of real-time details and insights on our city's traffic.
ClearSight CCTV
Artificial Intelligence CCTV
CTiData's Project reference
Majlis Daerah Mersing Case Study
The municipality of Mersing district in Johor manages lighting, A.I Traffic CCTV and environmental data with one central management system, AdvanCTi.
Mersing Project
Mersing is a coastal town in southeast Malaysia. It's known as the departure point for ferries to offshore islands like Pulau Tioman and Pulau Rawa.
The district of Mersing is governed by the District Council known as the Mersing District Municipality.
This Municipality acknowledges the need for Smart City initiatives to bring prosper and innovation to the people of Mersing.
Hence, AdvanCTi is honored to be selected by Mersing Municipality as the preferred brand to bring Smart City Innovation to become reality in Mersing.
Endless Possibilities.
Costs Savings with Adjustable Lighting
During the dark in Mersing, AdvanCTi's LED luminaires lighten up the street with the Nema-ready street light, along
the road of Jalan Wawasan in Mersing Johor. The combination of the LED luminaires and AdvanCTi technology has enabled the municipality to reduce energy consumption by as much as 60%, extend the useful life of the luminaires, and lower maintenance costs to almost zero.
With AdvanCTi Central Management System connected with the LED luminaires, the system enables the Mersing
Municipality to have total control over their street light assets.
Urban Data Solution
A data-driven city is the next smart city. The district of Mersing has elevated its data harvesting method by installing AdvanCTi's Integrated Environmental Sensor, Clear Sense.
This version of Clear Sense detects PM2.5, PM10, humidity, and temperature. Giving the municipality the flexibilities to predict accurately and prepare for any environmental disaster in a localized area.
The street of Jalan Wawasan in Mersing has been equipped with AdvanCTi's artificial intelligence CCTV, Clear Sight. That is capable to generate video analytics from Vehicle Classification, Vehicle Counting, Vehicle Waiting-Time Calculation, and many more.
Making the city of Mersing smarter than ever in harvesting their city's data.
Check out an in-depth report on Majlis Daerah Mersing (AdvanCTi) ->
Discover our smart city solutions
CTiLight, CTiData & CTiTraffic
LED Vision Malaysia are always looking for the next great client and project. If you'd like to work with us, please get in touch!
LED Vision Sdn. Bhd.
No 109, Jalan PM 1,
Taman Perindustrian Merdeka,
Batu Berendam, 75350
Melaka, Malaysia
Working Hours
Monday-Thursday: 8.30 am - 6.30 pm.
Friday: 8.30 am - 5.30 p.m.
Weekend and Public Holiday: Closed
Telephone: +606-317 3668
FAX: +606-317 3882
E-mail: sales@ledvision.com.my